12. Februar 2015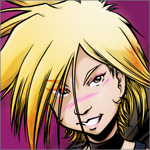 I'm finally back!
As you can see the site has gotten a new design, catching up to the original german one. And since there're also lots and lots and lots of comics to catch up to as well, wich I didn't even try anymore due to a horrible bunch of untranslatable jokes wich are blocking whole story branches, I'm very happy to announce:

Starting next wednesday Demolitionsquad.net will finally continue to deliver new comics on a biweekly basis. Luckily not by myself, but by a real freelance translator. That means you'll get much more fluid translations and, since the poor guy took a lot of time and effort to create some totally new jokes in case they wouldn't have worked in English, the comic strips will comprise new content even for me. XD

So stay put and I hope to read you next wednesday! - DS_Nadine

fumpen

All glory & hail to the new demolitionsquad to amuse me in full colour and perfect english(perfect as mine). Go, Nadine!